Harry T. Burleigh: Remembering the man
and his music at St. George's Church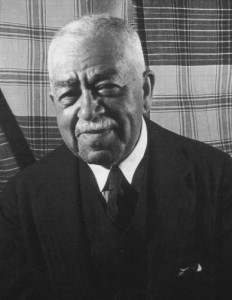 Harry T. Burleigh - Image Courtesy of The Library of Congress
By Lonnie D. Stoltzfoos
It was the Gilded Age when, in 1894, a young music student named Harry T. Burleigh won a coveted position as the soloist at a prominent Episcopal church in Manhattan. Today he would be remarkable perhaps for his young age, and certainly for his voice and his gifts as a composer. In that era, however, his hiring was virtually unprecedented because he was African American, a grandchild of emancipated slaves. The church's rector, William S. Rainsford, got the decisive support he needed to complete the controversial hire from a member of his parish's vestry, the finance titan and philanthropist J.P. Morgan.
Burleigh went on to sing at St. George's Church, on the west side of Stuyvesant Square, for over 50 years, missing only one performance. Throughout his career, Burleigh acquired a stellar reputation as a composer and music scholar. He made periodic trips to rural Georgia to visit black tenant farmers, where he transcribed and catalogued over 600 African American folksongs. In New York, Burleigh collaborated with his friend and teacher, the Czech composer Antonín Dvořák. Burleigh and Dvořák both had a synergistic effect on each other's music-Dvořák integrated Negro spirituals in his Ninth Symphony, and Burleigh placed the melodies of Negro spirituals into rhythmic constructions resembling Dvořák's Slovanic Dances. The music of both men will be celebrated on Feb. 24th with a concert at St. George's Church, in commemoration of Black History Month.
St. George's Episcopal Church is linked to many groundbreaking movements for racial equality. Under the direction of the aforementioned Rev. Rainsford and J.P. Morgan, St. George's became one of the first Episcopal churches in New York City to welcome black and immigrant children to its Sunday school program, a move that set an example for churches across the country. Rev. Rainsford's predecessor at St. George's, Stephen H. Tyng, Sr., was an influential abolitionist who helped form the National Freedmen's Relief Association, in 1862, and served as its first president.
Just over one-hundred years later, Rev. Tom Pike, who served at Calvary-St. George's for 37 years and is now Rector Emeritus, agreed to a request by the Stuyvesant Park Association to lead a group of locals and St. George's parishioners to Washington, D.C., for the civil rights March on Washington in August 1963.
"When we got there we were placed right on the steps of the Lincoln Memorial," recalls Rev. Pike. "We ended up sitting on the steps when Dr. Martin Luther King made his famous speech, 'I Have a Dream.' We were privileged to be right there, looking out on the Mall, with thousands and thousands of people. It was a very inspiring moment."
Burleigh did not live to witness that historic event. His declining health had forced him to stop singing at St. George's in 1944, by which time he was a well-loved and highly valued member of the parish. He died five years later, at age 82. Soon after his funeral service at St. George's, a parishioner paid homage to him in the parish newspaper, writing: "He seemed aware of deeper tones of brotherhood and throbbing harmonies of humanity which others did not hear."
"I Don't Feel No Way Tired," a concert commemorating Black History Month with the music of Harry T. Burleigh and Antonín Dvořák. Music directed by Kamel Boutros. Performance includes a brief history presentation by Rev. Tom Pike, Rector Emeritus. Friday, February 24, 2012, 8 PM. St. George's Church, 16 Rutherford Place, between E. 16th and E. 17th Streets. Suggested donation at the door of $35. www.calvarystgeorges.org